UNFIT FOR DUTY
SPECIAL REPORT: Embattled officers land on their feet
Part 4: Veterans in trouble often find second chances by heading down the police career ladder
By Anthony Cormier & Matthew Doig
Published: Thursday, December 8, 2011 at 1:00 a.m.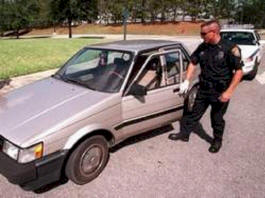 Ocala Police Officer Nicholas Viaggio uses a latex glove to open the door on a stolen car that was used in a bank robbery. Fired in 2002, he next landed a job with the department in Chiefland. (OCALA STAR-BANNER ARCHIVE / 1998)
Nicholas Viaggio needed a job, but a personnel jacket full of complaints didn't help his cause.
The Ocala Police Department fired Viaggio in 2002 after repeated outbursts: He threw a handcuffed prisoner against a wall because the man asked to use the bathroom. He cursed a supervisor who asked him to help with a manhunt. And he threw his girlfriend onto the dance floor of a crowded nightclub for talking to another man.
Four years later, Viaggio found a job with the Chiefland Police Department, a smaller outfit in a town of 2,000 people near Gainesville.
"He come in to talk to me and asked me to give him a second chance," said Chiefland Police Chief Robert Douglas. "I said, 'Sure. But you're gonna be under the microscope.'"
Douglas fired Viaggio three years later after discovering he had stolen taxpayer money by falsifying his time sheet. Douglas said he regretted giving Viaggio that second chance and figured no other agency would hire Viaggio again.
He was wrong. Later the same year, Viaggio went to work at an even smaller agency, the Inglis Police Department.
"You're kidding me?" Douglas said when he heard Viaggio had been given another chance. "I didn't know that."
Inglis Police Chief Steve Dixon said Viaggio had no misconduct investigations as an officer there and that he recently left the department voluntarily to "spend more time with his family." Viaggio, whose photo still appears on the department Web site, did not return calls seeking comment.
Regardless of what they have done in the past, officers with active law enforcement certificates in Florida often find work by moving down the career ladder and landing at a smaller department.
As in any profession, the best, most ambitious officers will be tempted by places where the pay is higher, the benefits are better and the job is the most prestigious. That leaves the rest of the state's agencies either serving as the training ground for young, promising officers who will eventually leave or being forced sometimes to overlook a questionable past to hire a veteran officer willing to work cheap.
Eustis Police Department Lt. David Hubbard put together a research paper for the Florida Department of Law Enforcement in 2008 about the difficulties small agencies have retaining officers.
In an interview with the Herald-Tribune, he said smaller agencies wanting to hire trained veterans are often dealing with candidates who have been in trouble elsewhere. It can be like "making a deal with the devil," he said.
"You think it's a second chance so they'll try hard, which is what they're telling you," he said. "But you're also thinking, are they going to get you sued?"
'GYPSY COPS'
State law enforcement officials maintain a case log of "moral character violations," which are typically investigations of serious incidents of officer misconduct that the officer's employing agency has found to be true.
A Herald-Tribune computer analysis of the FDLE's misconduct cases and employee data supported the idea that the state's smaller agencies are a dumping ground for problem officers.
The newspaper compared the number of officer misconduct cases at the state's largest police and sheriff's departments with those at the smallest. There were about 160 non-correctional agencies in each category.
At the largest agencies, 3.9 percent of the officers had committed a violation serious enough that it had been sent to the FDLE, which decides whether to end an officer's career. At the smallest agencies, 8.1 percent of the officers had a misconduct case that put their career in jeopardy — more than twice as many.
The difference is even more stark when comparing the state's largest agency with some of the smaller agencies that operate in its shadow.
Four police departments in Dade County — Biscayne Park, Sweetwater, Opa-Locka and Hialeah Gardens — have, on average, 20.7 percent of their officers with a state misconduct case. Meanwhile the number is only 4.9 percent at the Miami-Dade Police Department.
Using the same FDLE data, the Herald-Tribune also identified officers who bounced from agency to agency — in law enforcement they are called "gypsy cops." The paper filed public records requests with more than 120 agencies to obtain individual personnel records, which would include internal affairs investigations. Those department-level records provided details and additional information not available in data from the FDLE.
For example:
• Samantha Carter was dogged by allegations that she abused prescription pills, smuggled drugs to inmates and committed fraud as she bounced among five Panhandle prisons during a 15-year career. The state's disciplinary commission considered three separate cases against her for fraud, trespassing and for having an unprofessional relationship with an inmate. But her certificate remained in good standing and she repeatedly found new work.
In Washington County, Carter lasted less than two years as a corrections officer at the jail before she was arrested on charges of doctor shopping. Eight months into her job at the Bay County Jail, colleagues reported that she was sweating, swaying and unsteady on her feet. Jail officials fired her after she refused to take a drug test.
Carter finally lost her certificate in August 2010 on a stolen property charge. She could not be reached for comment.
• Wyatt Henderson worked at five agencies during a 20-year career that ended at the Charlotte County Sheriff's Office, where he resigned while under investigation.
FDLE records indicate he was fired at least twice and that agency investigations determined he made false statements, used excessive force and fired his weapon into an office wall while goofing off with colleagues.
Henderson lost his law enforcement certificate in November 2004 after he was convicted in 2003 and sentenced to seven years in prison for pistol-whipping and breaking the jaw of a Charlotte County juvenile. In the same case, a federal jury also convicted Henderson for filing a false police report and making a false statement.
• Of the 19 Sweetwater police officers sent to the commission for misconduct, 12 were hired after incidents at other agencies, including six from the nearby Miami-Dade County or City of Miami police departments. The former Miami officers include Saul Fernandez, who faced discipline for a sex offense; Ignacio Menocal for cocaine possession; and Eduardo Demurias for indecent exposure.
Sweetwater Police Chief Roberto Fulgueira said he personally vetted each of his officers before hiring them. He cited an old law enforcement expression: "You can beat the rap, but you can't beat the ride."
Normally used in reference to people, guilty or not, who have to ride in the back of a police car and spend time in jail, Fulgeria used the line to illustrate that an officer stained by a disciplinary incident is not necessarily an officer unfit for duty.
"This stuff is supposed to follow you forever?" he asked. "For the rest of your career? Of course I'm going to give somebody a second chance."
'THEY'RE GOOD TO GO'
The City of Belle Isle, a lakeside Orlando suburb, was desperate to hire officers.
At one time the city paid $850,000 for the Orange County Sheriff's Office to police the community. But when the contract ran out in 2008 and the asking price tripled, the city scrambled to form its own police force.
For six months, the city went without 24-hour police protection and instead relied on a private security guard. As City Manager John Tegg, a former lawman, put together a roster of 15 sworn officers, he could not be picky.
Tegg said he hired cadets fresh out of the academy, but also needed veteran officers to train them. So he hired three former Orange County Sheriff's deputies fired for perjury, excessive force and making false statements.
The men had been fired, Tegg reasoned, but not stripped of their badges by the state's law enforcement commission. Some of those officers, including a high-ranking administrator, were later fired for a new act of misconduct at Belle Isle.
"If the commission says they're good to go, they're good to go," Tegg said. "If they haven't pulled their certificate, we can hire them as far as we're concerned."
Hubbard, who is also the Eustis Police Department's internal affairs investigator, said it is common knowledge in the profession that if officers get in trouble at one agency, they will go to a smaller agency and try to rebuild their career. But there are always officers whose names you hear about because they never seem to learn their lesson.
"I don't know why they blow that second chance," said Hubbbard. "If they want to go back up the food chain, you can't make that second mistake."
Copyright © 2011 HeraldTribune.com