Feds look into Meriden police's use of stun guns
MERIDEN - Tasers are a standard part of Meriden Police patrol equipment and they are used on average three times per month, but allegations of police brutality and nepotism in the department have caused federal investigators to examine records involving the stun guns over the last four years.
Assistant U.S. Attorney Paul H. McConnell of Hartford requested the Taser records in June as part of a probe by the state's attorney and FBI into the department.
The city has also hired its own attorney to investigate in the wake of the allegations,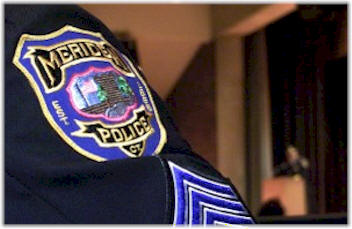 which were raised by two officers in an April 1 complaint letter to the city.
Three lawsuits have been filed against Chief Jeffry Cossette, his son, Officer Evan Cossette, the city and other members of the department over alleged brutality by the younger Cossette.
One of those cases involves a Taser. Federal investigators are also looking at the department's internal affairs unit, requesting copies of all of its reports over the last four years, including files related to at least one specific case in which a stun gun was used.
Tasers were introduced to the department on a limited basis in 2001. Chief Cossette, who assumed the role of chief in 2005, moved to have them issued to all on-duty officers in 2007.
Tasers have significantly reduced injuries to officers and suspects, Cossette said last week in an email. He had said in 2007 that compensation claim costs from assaults on officers dropped dramatically after stun guns were introduced.
Yet one local man has died after being shocked, and others have filed complaints over Taser use.
Tasers were used in less than one percent of the department's 9,433 arrests since 2009. More than 55 percent of Taser strikes were directed at minorities, which is disproportionate to the city's population.
About 10 percent of the city's nearly 61,000 residents are black and about 29 percent are Hispanic, the two minority groups on which stun guns were reportedly used since 2009. (Meriden police did not complete a use of force summary report for the last quarter of 2009, Capt. Donald Parker said, and the Record-Journal was still waiting last week on fulfillment of a Freedom of Information request for the four years of records given to federal investigators).
Police supervisors in their quarterly summaries indicated no problems with how force was used in the department.
Of the 9,433 arrests made by Meriden police from January 2009 to the present, "a Taser was deployed to effectuate an arrest on 81 occasions, or .85 percent of the time," said Chief Cossette, in his e-mail.
"When you pick and choose numbers, rather than the global picture, you can create any scenario that you want," said the chief. "There was no racial or ethnic indication of impropriety ..."
Tasers "are fully deployed within the Patrol Division," said Chief Cossette. "They are issued to all new officers as part of their standard equipment. Tasers have significantly reduced injuries to officers and suspects since their inception.
"If a suspect chooses to fight with officers, there is a possibility that they may be tasered, to avoid injury to the officer or themselves, regardless of race," Cossette wrote. "There are documented cases within the Meriden Police Department in which Tasers were deployed on suspects armed with a knife, in which deadly force would have been justified. Serious injury was avoided as well as the traumatic effects that an officer must endure after he utilizes deadly force."
Meriden's disparity is far less glaring than in cities such as New Haven, where 84 percent of stun gun usage in 2008-09 was on minorities, according to analysis by the American Civil Liberties Union of Connecticut, but there are still concerns.
Groups such as the National Association for the Advancement of Colored People have called for restrictions or bans on the devices, at least until more study is done and increased regulations are in place.
The Connecticut ACLU prompted introduction of a bill in the General Assembly this year that would have started a study of electronic defense weapons with an eye toward standardizing training requirements and guidelines for police about when to use them and on which populations they should not be used.
As initially proposed, the measure would have codified Taser training and record keeping by police and specified protections for young children, the elderly and pregnant women, but it was changed to a study.
The amended house bill, no. 6615, passed three committees but died without coming up for a vote. David J. McGuire, staff attorney for the Connecticut ACLU, said it hopes Taser regulation will gain passage in a future session.
"We found a wide array of differences between (police) departments," he said, noting that some didn't have device policies or require detailed reporting of their use. The group has counted nine Taser-related deaths in the state over the last six years.
But representatives of the Connecticut Police Chiefs Association told lawmakers that the Police Officer Standards and Training Council already requires the amount of training specified in the original bill and that limiting usage to certain groups would inhibit police.
The section prohibiting Taser usage "on persons whose age or physical or mental condition increases the risk that serious injury or death will result from such use" including children, the elderly and pregnant women "would ban use of a TASER where even use of a firearm may be justified," the chief's association said in written testimony to the Judiciary Committee.
It also objected to a requirement that police "immediately seek medical attention" for anyone struck with a device. The association doesn't object to getting medical aid "when needed," but noted that "many people sustain TASER applications without any injury."
Health risks and potential death remain concerns even as stun guns have spread to more than 12,000 departments nationwide. Amnesty International found more than 330 people had died after being struck by stun guns between 2001 and mid 2008, and that 90 percent of them were unarmed.
Also disputed is the term "excited delirium," which medical examiners sometimes give as the cause of death in a Taser-related incident.
The American Medical Association doesn't recognize the term, for instance, but the American College of Emergency Room Physicians does.
Meriden resident Donovan T. Graham died of "cardiac arrest from excited delirium," the state medical examiner found, after a confrontation with police at his Community Towers apartment in June 2008.
Graham, 35, was an Army veteran who was living in the mostly senior public housing complex because he had a disability.
Police responded to a disturbance call because Graham was playing his music loud and shouting. He told police to go away and said he had a knife and gun, according to the police report.
A struggle ensued as three officers approached him, one showing a gun and two with Tasers drawn.
Graham began to fight the officers, repeatedly saying "I am going to kill you," according to a report from the New Haven State's Attorney's office, which reviewed the incident.
The state's attorney examines all cases in which police use lethal force but had to choose to review the Graham incident because state statute says stun guns are "not capable of inflicting death or serious physical injury."
Officer Glen Felton fired his Model X26 Taser at Graham and held the trigger for 13 seconds, attempting to administer a shock of 50,000 volts. Graham fell to the ground but continued to kick violently, the report says. He removed the wired probes and rose to his feet to attack police.
Sgt. Thomas Cossette, who is now a lieutenant, attempted to "drive stun" Graham with his Taser by placing it directly against Graham's body. Cossette deployed the device 10 times over a span of about four minutes, with shocks lasting between five and 11 seconds, according to the report.
However, "other than further agitating him it had no noticeable effect" on Graham, the report says.
The report concluded that both Felton and Cossette, who is the chief's brother, used the devices properly. Although Felton's shock was long and Cossette's were frequent, "it is not definitively known" whether there was enough contact through Graham's clothing to render the shocks, reads the state's attorney's report.
A fourth officer assisted at the scene and then four more came to relieve the first responders, who were treated for various injuries at MidState Medical Center and released.
It took five sets of handcuffs to restrain Graham's arms and legs. Once that was done his "breathing and pulse were getting shallow," the report says.
Emergency personnel attempted CPR and he was taken to MidState, but he could not be resuscitated.
The medical examiner found Graham, who is black, died of natural causes and that "no opiates or alcohol were detected" in his system.
The state's report concluded that the officers used force properly and said they should be commended for their "judgment and professionalism in dealing with an extremely dangerous situation."
The department's internal investigation reached the same conclusion and some of the officers were honored for their response.
The Meriden-Wallingford branch of the NAACP, however, is still not satisfied with police answers to questions about the incident.
"That issue has not been resolved," said branch President Barbara W. Holloman. The group met with Chief Cossette and other police officials following Graham's death, and met with them again in May to discuss various concerns after the recent allegations of brutality were raised.
Holloman said she couldn't discuss Graham's death at the request of his mother but that "nothing was done to satisfy her or the NAACP. Their answers to us are unacceptable."
It has also drawn criticism from Norman Pattis, a civil rights attorney from Hartford, who investigated the department's stun gun use.
Pattis said he reviewed Taser records for Meriden police over a five year span and concluded that "a handful of officers used Tasers a majority of the time."
But without a jury trial, "the fact that (some police) are trigger-happy electric junkies is never going to be aired publicly," he said. He is not pursuing legal action regarding Graham.
When people die after receiving electric shocks, police may be the only witnesses and "they are going to tell you and almost everyone in every instance that the conduct was justified," Pattis said in May.
Graham, who died following the police confrontation in 2008, was the first person Meriden Police struck with a Taser in 2001 after they obtained the devices.
Police ended a four-hour standoff with him at a North Pearl Street apartment by administering a stun gun shock. He "immediately stopped resisting, immediately stopped fighting," police said at the time. Graham was taken to MidState for a psychiatric evaluation and released.
His death and the death of Marcus Brown, 26, of Waterbury, are reasons Holloman supports the national NAACP's call for a ban on the devices until more state and federal regulations are in place.
Brown, who is black, died May 1 after Waterbury Police shot him with a stun gun when they say he became combative while he was handcuffed and in the back of a police cruiser. State police are investigating the case.
"We are very concerned about it, locally and nationally," Holloman said. "The disabled, young people, they're being tased and (police are) using it more and more."
She wasn't aware of the racial statistics for stun guns until informed by a reporter but said the NAACP would continue to meet with local police "to make sure they are treating residents fairly and doing what they're supposed to be doing, which is keeping the community safe."
Holloman hopes to work with the Waterbury NAACP branch to prompt more discussion of Tasers with the state NAACP.
She also said Meriden Police are "the most cooperative" out of the government agencies with which her group works. Chief Cossette has actively forged links with the NAACP during his tenure, holding various meetings with group representatives.
In the May meeting, Holloman said Cossette explained that the use of Tasers means less use of guns, "which is a good thing."
Police used their firearms against suspects 26 times in 2009, based on the information provided, and stun guns 32 times. The firearms were not discharged.
Officers were more likely to use guns or engage physically with white suspects by about a two-to-one margin compared to non-whites, the numbers show.
Guns were displayed 18 times against whites, six times against blacks and twice against Hispanics. Physical force was used against 29 whites, 13 blacks and two Hispanics in 2009.
TASER International, of Scottsdale, Ariz., is the sole authorized stun gun provider for law enforcement in Connecticut. It issues product warnings to avoid repeated, continuous or simultaneous exposures and to avoid "sensitive areas of the body such as the head, throat, chest/breast" or areas with pre-existing injury "when possible."
It says the preferred target areas are "the lower center mass (below chest) for front shots and below the neck area for back shots."
The company has won or seen dismissal of all but two of the 129 product liability cases filed against it over alleged injuries, said Steve Tuttle, vice president of communications.
Taser issued a warning in 2009 to avoid aiming at the chest, and Meriden and other area departments issued memos to inform officers.
Meriden's policy calls for training and proficiency testing every two years on compliance control and use of less-than-lethal weapons, such as stun guns.
Deputy Chief Timothy S. Topulos has drafted an update to the department's use of force policy, which is under review. The update would include appendices on topics such as excited delirium, emotionally disturbed persons and stun guns.
It would also require police to seek medical attention for anyone struck more than three times with a Taser.
Multiple shocks may have been deployed against Joseph G. Bryans, who is one of the men suing the city after he claims Evan Cossette tackled him outside of MidState in January.
Cossette shocked a handcuffed Bryans, who was at the hospital after falling and suffering a cut on his thumb while celebrating his 30th birthday, "several times" with his Taser in drive stun mode, the lawsuit says.
An internal investigation cleared Cossette, although it was unclear if the investigator, Sgt. Leonard Caponigro, pulled information from Cossette's Taser to see how often it had been deployed. Caponigro was on vacation last week and could not be reached for comment.
The other Taser-related case federal investigators specifically requested was of Tony Jackson, whom police subdued at the Westfield Meriden mall in April 2010 after he was detained on suspicion of shoplifting.
Jackson, of Bloomfield, resisted officers and suffered a deep head cut. He was convicted of attempted assault on a public safety officer last month and received a one year prison sentence.
Not all departments use stun guns as widely as Meriden.
Wallingford, for instance, has just seven Tasers and 21 officers authorized to carry them among its department of 68 police. There were no deployments in 2009, four in 2010 and none so far this year, said spokesman Lt. Marc Mikulski.
But Mikulski acknowledged that the devices are helpful in gaining compliance and lowering incidence of officer and suspect injuries, so much so that police often gain compliance simply by displaying the Taser.
"A lot of people don't want to be tased," Mikulski said. "They know that it's no fun."
John DeCarlo, a former Branford Police chief who teaches criminal justice at the University of New Haven, said a recent study by the federal National Institute of Justice found that stun gun usage has reduced suspect injuries by about 30 percent.
"The Taser fits in the force continuum somewhere between a blackjack (baton) or striking instrument and a lethal instrument like a gun," he said. "It's a whole other level of options an officer could pursue before lethal force."
Health concerns could use more study, DeCarlo said, including the link between Taser-related deaths and suspects that had other medical issues, but "I'm not sure that having been beaten with a club or shot with a gun would have been any safer than Taser use" in many instances, he said.
DeCarlo and colleagues from John Jay College and the University of Arizona recently completed a study that found "minority officers are actually more apt to use Tasers against minority suspects than white officers."
This was "a whole other level that we never expected to find," he said of the review of self reports from 600 officers. The results have not yet been published.
Another reason stun gun use against minorities may be higher is that minorities represent a disparate proportion of arrests, DeCarlo said.
Blacks, for instance, are about 14 percent of U.S. population but about 40 percent of the prison population, indicating that their incidence of arrest is higher, he said.
Such numbers may point to deeper issues within the criminal justice system, but DeCarlo still has a general support for Tasers, especially since they can reduce suspect injuries.
"Sometimes, unfortunately, force is necessary," he said. "I don't want to see the public hurt unnecessarily."
Copyright © 2011 Record-Journal