UNFIT FOR DUTY
SPECIAL REPORT: Florida's flawed system for policing the police
Part 1: Forty internal affairs cases would cost most police officers their jobs. But not Opa-Locka Police Sgt. German Bosque. Not in this state.
By Anthony Cormier & Matthew Doig
Published: Sunday, December 4, 2011 at 1:00 a.m.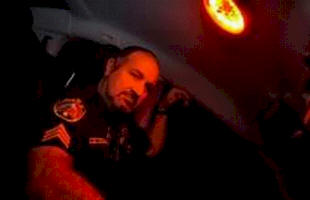 STAFF PHOTO / DAN WAGNER
Sgt. German Bosque patrols in Opa-Locka, one of Florida's roughest cities. Fired five times and arrested three, he leads the state in disciplinary cases. He says he is respectful to civilians, but there are times he has to be "tough to earn respect."
German Bosque's personnel file looks more like a rap sheet than a résumé.
In two decades, the Opa-Locka Police Department opened 40 internal affairs cases on Bosque. Sixteen of them were for battery or excessive force.
Fired five times and arrested three, he was charged with stealing a car, trying to board an airplane with a loaded gun and driving with a suspended license.
Internal Affairs investigations found that Bosque split a man's lip with a head butt. He opened another man's head with a leg sweep and takedown. He spit in the face of a drunken, stumbling arrestee. One time, he smacked a juvenile so hard the boy's face was red and swollen the next day.
Bosque has been caught defying direct orders, lying to supervisors and falsifying police reports. Off duty, he was accused by women of domestic violence and stalking. During inspections, the agency found a counterfeit $20 bill, cocaine and crack pipes in his patrol car.
Still, Bosque has kept his badge.
In Florida, the process of investigating and disciplining police officers and prison guards is flawed at every level, allowing troubled lawmen to return to work after repeated acts of misconduct, a Herald-Tribune investigation has found.
Law enforcement agencies around the state employ officers despite cases of serious misconduct in their past, involving everything from violence and perjury to drugs and sexual assault. Many more cases stay hidden because agencies fail to thoroughly investigate or report complaints.
When agencies do try to rid themselves of problem officers, they are often thwarted by the state's powerful law enforcement unions, which have lobbied to give officers better protections and more opportunities to overturn negative findings.
At the same time, the group of state officials that is supposed to be the last line of defense against wayward officers declines chance after chance to strip them of their certifications.
No officer exemplifies the failure of Florida's system better than Bosque.
In a computer analysis of the Florida Department of Law Enforcement's discipline cases, the Herald-Tribune found Bosque's certificate had been jeopardized due to misconduct more than any other working officer.
During an August interview in Opa-Locka, Bosque lit up with excitement when he heard that he led the state in discipline cases.
"I can't believe that," he said. "I'm not trying to smile. I just ... damn!"
A high-level staff member with the FDLE's Bureau of Officer Standards had a different reaction. He first said it wasn't possible for an officer to get in trouble that many times and still be certified.
Then he pulled Bosque's records.
His response: "Holy s--t."
"THIS LOSER COP"
Opa-Locka is 10 miles north of Miami, where the Gratigny Parkway dumps off next to a swap meet, a municipal airport and little else for the Chamber of Commerce to brag about.
Famed aviator Glenn Curtis founded Opa-Locka in 1926, styling the city's architecture after the Arabian Nights tales.
Today, streets bearing exotic names like Ali Baba Avenue are lined with warehouses, and the minarets of the old City Hall are in sight of a convenience store marred with graffiti and dimpled by bullet holes.
Opa-Locka's measurables are not pretty, including the number of city officials indicted for corruption. The median household income is $19,000 a year. Thirty percent of families live in poverty. And the city's violent-crime rate has ranked among the highest in the nation. Although many factors make comparisons unreliable, Opa-Locka has at times seen the kind of violence more commonly associated with big cities like Baltimore or Detroit.
Bosque (pronounced BOSS-kay) is a Cuban officer in a city where two-thirds of the 16,000 residents are black. One afternoon in August, he pulls a department-issued black-and-white Dodge Charger into a gas station parking lot on 27th Avenue.
"Get in," he tells a reporter.
Bosque is on the phone with a woman whose daughter is being bullied by another girl.
"Bebita, listen to me," he tells the woman. "We'll take care of it."
Bosque is 6-1, probably 200 pounds. Handsome, but weathered. Creases line his face. He has a short goatee and dark eyebrows. His forearms are solid like clubs and his thick hands squeeze the steering wheel.
"You should see the files, chicho," he says. "I been fired five times. Five. It's like, why do they keep giving this loser cop a job? People ask that. They wanna know that."
Bosque is amped. He bounces in his seat as the squad car turns east on Ali Baba. He talks with his hands, snapping his forefinger against his thumb, nudging the reporter in the arm to make his point.
"You know what? I like the person I see in the mirror," he says. "I'm conceited about one thing in my life: I'm an excellent police officer.
"But I break some rules. Like right now. You're not even supposed to be in the car with me."
BOSQUE'S RECORD
Bosque is surprised he still wears a badge. He knows he is lucky to have gotten one in the first place.
He was kicked out of two police academies, the first for sleeping in class and the second after he was arrested on charges he stole a car, had a gun and impersonated an officer. He was later acquitted.
Bosque says he broke into law enforcement during the chaos in South Florida after Hurricane Andrew. A chief in Florida City accepted his help in August 1992 and let him guard a gas station against looters because Bosque had his own gun and a windbreaker with the word "POLICE" on the back.
Once Florida City learned of his record, the chief asked him to leave. But an Opa-Locka sergeant admired Bosque's work ethic and helped him get a job.
"Nobody else wanted to give me a chance," Bosque said. "It was the lowest of the low. Nobody wants to work in Opa-Locka."
He joined the department in 1993. Since then, at least a dozen complaints against Bosque have been sustained for various counts of battery, perjury, theft of city resources, conduct unbecoming, official misconduct, breach of duty and excessive force. A sustained case is one in which investigators determine there is enough evidence to say the act occurred.
Florida law requires local law enforcement agencies to send their most serious sustained misconduct cases to the FDLE. There, staff members and a panel appointed by the governor review the facts and decide whether to take action against an officer's law enforcement certificate. Potential penalties range from a written reprimand to revocation.
Records show this division of the FDLE, the Criminal Justice Standards and Training Commission, has reviewed seven cases against Bosque after investigations found:
•In February 1999, Bosque chased another car despite an order to give up the pursuit. The suspect eventually crashed into a tree. Bosque tried to cover up his role in the accident by calling 911 from his personal cell phone instead of his police radio so his superiors would think a regular citizen had reported the accident. He also doctored his police report to show he arrived at the scene 15 minutes after the crash.
The commission took no action against Bosque's certificate.
•In August 2000, Bosque struck a teenager three times in the face, leaving marks still visible the next day. A colleague who witnessed it got an anonymous letter in his department mailbox questioning how he could "report wrongdoing by another officer." Bosque's only disagreement with the facts was that he struck the teenager twice, not three times.
The commission took no action, determining that Opa-Locka's punishment for Bosque, which is not specified in city records, was appropriate.
•In December 2001, Bosque struck a man in the face twice, punched him in the stomach and arrested him on a charge of battery on a law enforcement officer. The subject, who had his hands cuffed behind his back, needed stitches above his eye after Bosque swept his legs out from under him.
The commission took no action against Bosque's certificate.
•In January 2004, Bosque split the lip of a handcuffed man with a head butt. The incident happened moments after a fellow officer predicted Bosque was about to hit someone. Bosque said he was attacked, but the testimony of fellow officers suggested otherwise. Two months later, in a separate case, Bosque spit in the face of another handcuffed man.
The commission put Bosque's certificate on probation, which ended in 2008.
•In May 2004, Bosque was caught working a second job driving an ambulance when he was supposed to be at home on suspension over the previous two incidents. He also lied and said he had permission from a supervisor to work the second job.
With his certificate already on probation, the commission took no further action.
•In February 2008, officers inspected Bosque's vehicle and found an empty vodka bottle, a small bag of cocaine and four crack pipes. They also found IDs that Bosque had unlawfully confiscated, as well as arrest reports that he never turned in. The city fired Bosque, and the city manager wrote in a letter to the lawman that he had "failed to demonstrate that you have the qualifications and character required to be a Police Officer."
Bosque's union representative filed a grievance and won his job back. The commission took no action against his certificate.
In an interview at FDLE headquarters, staff members said commission rules prevent them from looking at the scope of an officer's misconduct. While he was surprised to hear the breadth of allegations against Bosque, Mike Crews, director of the FDLE's Criminal Justice Professionalism Program, said the state had met its obligations.
"Based on the cases as they were presented to us, our process was perfectly followed," Crews said.
'A CRAZY PLACE'
To most Florida law enforcement agencies, Bosque would be toxic. In Opa-Locka, he has been promoted to sergeant.
The city and its 62-person police force have been waylaid by years of incompetence, corruption and instability.
Bosque and other former officers guessed the department has had at least a dozen chiefs over the last 20 years. The interim city manager, Bryan Finnie, could not offer a definitive count.
The current chief, Cheryl Cason, was suspended earlier this year and investigated for allegedly covering up her role in a traffic crash. In 1995, when she was an Opa-Locka officer, Cason's certification was put on probation after she tested positive for cocaine.
Local news outlets have reported at least four city officials have been indicted on charges including tax fraud, taking bribes from a contractor and even using a city credit card to woo a paramour at P.F. Chang's.
The current mayor, Myra Taylor, took a plea deal in a federal tax case in 2004, left office and was re-elected in 2010. She did not return calls for comment.
Opa-Locka made headlines again last month when federal agents stormed City Hall to seize records on a police captain charged with protecting a drug ring and acting as a lookout during a bank robbery.
State law enforcement officials have investigated the police department but change has been slow. In 2002, the FDLE did a full review of the department and found it lacked enough squad cars, computers and weapons. FDLE agents also discovered untagged evidence in storage lockers, emergency calls put on hold and staffing shortages.
Former officers told the Herald-Tribune they once had to buy their own guns and bulletproof vests because the budget was so lean. And while there has been a recent push to replace aging weapons and patrol cars, Opa-Locka remains one of the worst-paying jobs in Florida. Rookie officers make $32,000, among the lowest entry wage for law enforcement officers in all of South Florida.
The department is again under FDLE investigation, prompted by an anonymous 2010 survey of officers that elicited claims that some had received sexual favors from arrestees, stolen property and ordered subordinates to release certain suspects. That inquiry is ongoing.
"It's a crazy place," said Jorge Rojas, who worked in Opa-Locka for 12 years before taking a job the North Miami Police Department in 2007.
Rojas said it was hard to keep track of all the changes in leadership. He recalled an officer promoted to sergeant and then chief, who was demoted back down to officer and later named chief again.
"That all happened in one year," Rojas said. "There's dysfunction in City Hall. There's dysfunction in the department administration. It's a tough place to be a cop."
Former Opa-Locka officer Michele Tewell said violence in the city is not what burned her out.
"It's the police department itself," she said. "It's like there is a change in chief every two years or so. You start out like, 'I'm gonna make a difference in this community.' By the end, there's so much crap to deal with that you have to get out."
Tewell said she knew Bosque before she left to work at the Citrus County Sheriff's Office in 2006.
"G.B. is a tough cop, and that's a tough place to work," she said. "When you told me that he got excited to hear he had more cases than anybody else, I wasn't surprised. That's what I'd expect from him."
WHAP ... WHAP
Time and again, Opa-Locka bungled misconduct investigations involving Bosque by losing paperwork or allowing serious allegations to languish without a proper inquiry. The Herald-Tribune found a dozen written complaints against Bosque that were unsubstantiated because documents disappeared, witnesses were never interviewed or the cases were improperly filed.
In 1997, a woman claimed Bosque was stalking her and had sneaked into her home through an air-conditioning vent while she slept. More than two years after filing the original complaint, the woman returned to find out the status of the case and to ask why she was never interviewed.
An officer initially told the woman the department had no record of her complaint. When the records were finally located, an official noted the case had been "incorrectly logged."
The woman dropped the complaint in 2000.
Last July, 16-year-old Lawrence Ortiz and his mother filed a complaint after Bosque arrested the boy on felony burglary charges because he was playing basketball after hours at a middle school.
In his complaint, Ortiz wrote: "Officer Bosque allowed me to pick up my headphones and as we left the basketball court he slapped me and told me if I say anything he would put me in the emergency room. He then walked me two more steps and slapped me a second time."
Ortiz and his mother provided their phone number and address for investigators. There is no record that anyone spoke to them about the claims. The only investigative document is a background check on Ortiz's mother to see if she had any active warrants. She did not.
The case was dismissed when the 180-day limit to investigate complaints elapsed.
Bosque will not say whether he slapped the boy.
In a two-hour interview with the Herald-Tribune, Bosque evaded some questions — particularly those about off-duty altercations with women. But he came clean about others.
He knows he has a reputation as a "thumper." He argues that in a city as turbulent as Opa-Locka, there are times an officer has to be "tough to earn respect."
"I'm a good cop for the good people," Bosque says. "But the bad guys know I might tune you up."
As an example, he boasts about a confrontation in November 2000.
An older Hispanic woman called police because of a dispute with her rowdy teenage son. Bosque said the boy cursed and taunted him and his partner.
"He gets right up in my partner's face, and I ask his mother if she can go in the other room for a second," Bosque says. "She does and the kid is nose-to-nose with my partner and I throw him on the couch and ..."
Bosque raises his hand to demonstrate.
"... I'm like, 'You gonna disrespect me?' Whap. 'Don't ever disrespect the police.' Whap. Took him to jail, he gets out and files a complaint. His mom testifies against me.
"I'm lucky he was a Hispanic kid. If he was black they would have rung me up for a civil rights violation."
He idles the patrol car at a gas station on 27th Street and Opa-Locka Boulevard. He says he has parked in this spot for years to be as close to the center of the city as he can get.
From here, he can be anywhere in under five minutes: north to a violent neighborhood known as the the Triangle; east to the Back Blues, an apartment complex and known drug den; west to the warehouses, where officers recently busted a business selling stolen auto parts.
As the sun sets, a man exits the convenience store. He gets on a bicycle, cracks open a can of beer and pedals away.
Bosque shrugs off the open-container violation.
"It's Opa-Locka," he says. "What are you going to do
Copyright © 2011 HeraldTribune.com