Gibbs says he's target of Meriden PD
Dan Ivers |
Posted: Saturday, April 7, 2012 10:45 pm
MERIDEN — Until recently, Leighton "Buddy" Gibbs' career at the Meriden Police Department had been generally unremarkable. Former colleagues and those who knew him during his 11-year tenure describe him as a devoted officer who went about his duties without drawing much attention.
That all changed last month, however, when he notified the city that he plans to sue various members of the department, claiming they pressured him to provide inaccurate information to the Internal Affairs Division and retaliated against him for altering his story when speaking with outside investigators.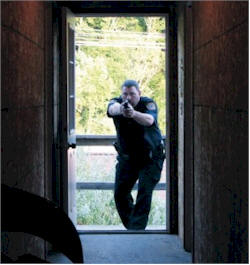 Gibbs at police academy in 2010
Meriden police officer Leighton Gibbs aims his gun during a training session at the Connecticut Police Academy Friday, Sept. 24, 2010 in which the department leanred how to respond in a hostage situation.
In his formal notice to the city, Gibbs admits that the story he told internal investigators in June 2010 about an incident involving a handcuffed prisoner and Officer Evan Cossette, the son of Chief Jeffry Cossette, did not match what he later told federal investigators and Attorney Thomas V. Daily, who has been hired by the city to look into allegations of widespread misconduct and favoritism within the department.
The change in his story has made Gibbs the target of attacks against his credibility from some members of the department, while he claims he was Record-Journal file photocontinually harassed and retaliated against for exposing the truth.

In January, Gibbs, 49, became the subject of a departmental Internal Affairs complaint accusing him of giving a false account of the May 1, 2010, incident that left prisoner Pedro Temich with a severe head wound that took 12 staples to close. Surveillance video shows Temich, who was handcuffed and heavily intoxicated, being pushed backward by Evan Cossette into a holding cell.
Cossette is shown leaving and re-entering the cell several times while blood seeps onto the floor, and occasionally moving Temich's unconscious body before removing his handcuffs before the arrival of paramedics. Internal investigators originally found that Cossette had violated the department's use-of-force rules, but were overruled by Deputy Chief Timothy S. Topulos, who issued him a letter of reprimand and ordered him to receive four hours of training.
Attempts to reach Evan Cossette through his attorney were unsuccessful.
The incident has become the focus of a yearlong federal investigation into the department. The state police and an independent investigator hired by the city are conducting probes of their own.
According to city personnel records, Gibbs' first eight years at the department were those of a respected, if relatively inexperienced, officer.
He had joined the force in 2000 at age 37, after 12 years of working as a driver for New Haven-based Standard Beef. His interest in public safety and law enforcement can be traced back to his time as a leader of the Castle Crime Watchers, a now-defunct neighborhood group on the city's west side near Hubbard Park.
Reviews of Gibbs' performance written by supervisors consistently described him as personable and well liked within the department, although most recommend he spend more time working the street on his patrol beat to expand his knowledge of the job.
In February 2008, Sgt. Robert Nesci wrote that Gibbs possessed a "decent working knowledge of policing" but warned that he "may not blossom to his full potential unless he regularly exercises his skills and knowledge on the street."
In November 2008, Gibbs received his first discipline in the form of a five-day suspension for misusing 160 hours of sick time. Chief Cossette, who Gibbs said initiated the complaint, claimed that Gibbs had not been sick, but had instead taken the time off to operate his barbecue business at fairs around the state, and was photo-graphed doing so on days he had called in sick. (Gibbs opened a Wallingford barbecue business, Big Country's Hickory Pit BBQ, in 2010 with fellow officer Michael Coviello.)
"This abuse of sick time cost the taxpayers of Meriden $2,757.28 in replacement costs for police officers on the street," Cossette said in an email Thursday.
Gibbs declined to comment for this story. In his notice of intent to sue, however, he claims that the use of the sick time was approved by his immediate supervisors and Detective John Williams, the police union's chief steward. He claims the subsequent suspension is an example of "unfair treatment and discriminatory actions" by both the department and the union.
In 2010, Gibbs was investigated again for failing to properly investigate allegations that a suspect in a criminal mischief case had threatened to kill his girlfriend. Gibbs eventually received a written reprimand signed by Chief Cossette.
During his 11 years as an officer, Gibbs was often injured and placed on light duty in the department's entry office. The city's personnel office is barred from releasing information on his medical history, but Gibbs' attorney, Frank P. Cannatelli, detailed some of his injuries in the notice of intent to sue the city.
According to the notice, Gibbs injured his back in the fall of 2001, and went on temporary disability leave while it healed. He missed further time after another back injury in 2003, a torn ligament in his foot in 2005, and whiplash in 2010.
Gibbs claims that sometime last year, union officials informed him that Chief Cossette was unhappy with his frequent injuries. Supervisors had frequently noted in his reviews that his development and any chances for promotion would be hindered if he continued to spend a significant amount of time away from a patrol post.
On Thursday, Cossette said an investigation into a worker's compensation claim filed by Gibbs is still active.
Former police union President Lt. Patrick Gaynor said he was surprised to hear that Gibbs had given inaccu-rate information to Internal Affairs after the Temich incident, since he had never heard of any problems with him in the past.
Although Gibbs retired after agreeing to a disability settlement with the city last month, Gaynor said his credi-bility would have been damaged if he had returned to the department.
"From day one, we encouraged people to tell the truth. That's the basis of law enforcement — you can't be a liar," he said.
Former Sgt. Joyce Hoff-Amann, who worked alongside Gibbs until she retired in 2007, said she was disappointed that Gibbs had not elected to provide internal investigators with a complete account of the incident. However, she said she believed he would have risked his career by changing his story only if he believed a serious wrong had been done.
"I understand the peer pressure, I understand the atmosphere at that time," she said. "Buddy was a stand-up guy. He was one of those guys that just wanted to do his job, and not be bothered with the circus that police departments sometimes become. I have no doubt that Buddy is telling the truth now."
Council of Neighborhoods President David Swedock, who knew Gibbs during his time with Castle Crime Watchers and attended the Citizens Police Academy with him in the 1990s, described him as a dedicated officer. He said he was surprised to see Gibbs' name linked to lawsuits against the department and the current controversy surrounding some of its members.
"I was just really surprised. Buddy was a really great guy," he said. "I think he just got caught up in all of this. It's unfortunate."