UNFIT FOR DUTY
SPECIAL REPORT: How Florida's problem officers remain on the job
Part 2: Despite 'moral character violations' — allegations of violence, drugs, theft and forcible sex — Florida officers keep their badges
By Anthony Cormier & Matthew Doig
Published: Sunday, December 4, 2011 at 1:00 a.m.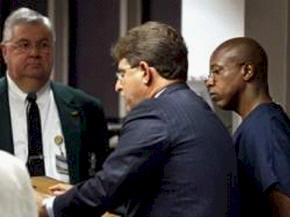 BRUCE R. BENNETT, via PALM BEACH POST FILE (2005)
Palm Beach County Sheriff's Deputy Craig Knowles-Hiller, right, a corrections officer, is shown in July 2005 at first appearance with his attorney, Micheal Salnick, center. Knowles-Hiller was acquitted of sexual battery.
Thousands of Florida officers remain on the job despite arrests or evidence implicating them in crimes that could have landed them in prison, a Herald-Tribune investigation has found.
Even those officers with multiple offenses have been given chance after chance through a disciplinary system that has been reshaped in their favor by the state's politically influential police unions. As a result, officers around Florida carry personnel files that are anything but heroic.
Corrections officer Kurt Stout, already dogged by allegations he groped and had sex with prisoners, was arrested on allegations he raped two teenage girls. Nick Viaggio capped a string of violent outbursts at the Ocala Police Department by attacking his girlfriend in a crowded nightclub until bouncers dragged him away. Palm Beach County deputy Craig Knowles-Hiller, under investigation for sleeping with a 14-year old, had to explain why the girl's DNA was found on one of his sex toys.
In each case, state law enforcement officials let the men keep their badges.
Serious incidents of officer misconduct erode public trust in a profession granted an uncommon degree of power and authority in a free society. Just this year, Florida officers have garnered unwelcome notoriety for offenses including extortion, drug trafficking and attempted murder.
The majority of the state's 83,000 law enforcement officers perform their jobs with honor and distinction, but state records show that every year hundreds commit what are known as "moral character violations."
These are not minor infractions,
like showing up late to work or disrespecting a supervisor. Moral character violations often involve drugs, violence, theft, forcible sex or other crimes.
The Herald-Tribune spent eight months investigating how state and local law enforcement officials handle officer misconduct, including an analysis of Florida's 22,200 cases of moral character violations.
The newspaper filed public records requests with more than 120 state and local agencies for records on more than 250 officers identified through the analysis. Reporters reviewed more than 12,000 pages of documents.
The paper also analyzed thousands of misconduct violations not available in the state's database by obtaining the internal affairs case logs of 28 local law enforcement agencies and the Department of Corrections.
Finally, reporters interviewed more than 50 individuals for this series, including law enforcement officials, disciplined officers, victims and experts in the field.
Among the Herald-Tribune's findings:
•One in 20 active law enforcement officers in Florida has committed a moral character violation serious enough to jeopardize his or her career. Nearly 600 have two or more such acts of misconduct on their record and 30 current officers and prison guards continue to wear a badge despite four or more offenses.
•The number of officers with serious violations is much higher than state records show. State law calls for every moral character violation to be reviewed by the Florida Department of Law Enforcement. But local agencies fail to report cases and have faced no consequences for doing so. The Union County Sheriff's Office has not reported a case of misconduct in 26 years.
•Even more misconduct cases never reach state officials because investigations are mishandled or minimized at the department level. Personnel records show instances of credible allegations being dismissed because of difficulties locating a witness, misplaced paperwork or unsavory issues in a victim's past. On the other hand, officers frequently received the benefit of the doubt from investigators and prosecutors, even when there is a record of similar complaints in the officer's past.
•Sheriffs and police chiefs undermine a computerized system to track troubled officers by letting the officers resign during investigations, then reporting that they left voluntarily. The tracking system is such a vital resource that agencies must check work history before hiring an officer. The Herald-Tribune uncovered two written agreements between police departments and officers under investigation that specifically kept the truth about a departure secret.
•State law enforcement officials do not audit departments to ensure that reporting laws are followed and haven't punished agencies for failing to report misconduct. In addition, state officials say they do not analyze their own disciplinary data, which the Herald-Tribune used to identify problem officers and agencies. For example, two officials said it was impossible for an officer to remain on the job with seven violations — until the officer was identified by reporters.
Roger Goldman, a nationally recognized authority on officer misconduct who helped write laws establishing review panels similar to the one used in Florida, called the findings alarming.
"Obviously there are huge holes in how Florida disciplines officers and revokes their certifications," he said.
BEATING THE SYSTEM
Florida International University officials were sure Frederick Currie wasn't the kind of officer they wanted patrolling their Miami campus.
Currie had repeatedly run afoul of the law and his employer over incidents of domestic violence and an arrest for child abuse. Armed with a psychologist's warning that Currie was likely to offend again,
school officials sought to fire him — for a second time — in 2003.
But as in a previous attempt to fire Currie, the police union exercised Currie's right to have his case heard before an arbitrator. Once again, the arbitrator determined the school must rehire Currie.
Two years after returning to duty, Currie molested a young woman during a traffic stop near campus, was arrested and sent to state prison.
Robert Norton, the labor attorney representing FIU, called it "the worst decision" by an arbitrator he has seen in a 40-year career.
"I thought the evidence was so overwhelming that this guy should never be entrusted with the role of law enforcement officer," said Norton, a partner at Miami law firm Allen Norton & Blue. "I was shocked at the decision."
Norton's 22-page legal brief, written for Currie's 2003 arbitration hearing, could serve as a case study for how difficult it is to fire a troublesome officer and how state officials failed to end a career before it was too late.
Norton acknowledged in his brief that the incident leading to Currie's termination was not his most severe: Currie had gone to an ex-girlfriend's house while she slept, banged on her window until the glass shattered and cursed her and the man she was with.
However, the university argued that Currie should be judged on his entire career.
Breaking the window "was the concluding incident in a bizarre history of similar, but more serious, off-duty domestic misconduct," Norton wrote. "All the evidence in this case must be weighed against this history."
According to school records, Currie was evicted from his residence in 1992 because of repeated instances of "domestic disturbances." Nine days after FIU hired him in 1996, Currie was arrested for domestic battery. He received a three-day suspension and underwent domestic violence counseling. Shortly after completing the program, he was again arrested over domestic violence allegations.
The school fired him. While he was terminated, Currie was arrested and accused of child abuse.
Florida law gives public employees the right to a hearing before an arbitrator, and the Police Benevolent Association filed a grievance on Currie's behalf. Norton, who estimates he handles 25 to 30 labor cases every year, said arbitrators "generally tend to lean in favor of an officer."
In 1999, an arbitrator sent Currie back to work by changing the school's termination into a 10-month suspension.
Three years later, a supervisor gave Currie permission to leave work early and get his car fixed. Instead, Currie drove — armed and in uniform — to confront a man he thought was sleeping with his girlfriend.
Following that incident, the school sent Currie to a law enforcement psychologist who deemed Currie "unfit for duty." The psychologist said there was "a continuing high probability to engage in future serious off-duty altercations."
Currie returned to work after completing a 90-day treatment plan. Two months later, he broke his ex-girlfriend's window and the school fired him.
The police union again fought the termination, providing lawyers and experts to rebut allegations against him. Union lawyers measured angles to determine if an eyewitness could see the window, found an old girlfriend to give an alibi and even questioned whether the victim was sitting on a bed or a sofa at the time of the incident.
Norton countered that Currie was a "regular source of embarrassment and disrepute."
"Enough is enough," the attorney wrote. "We cannot let Currie 'beat the system' again, it is time to put an end to his career at FIU."
The arbitrator disagreed and ruled in Currie's favor.
"The predatory nature of this guy was clearly demonstrated," Norton said. "There's an enormous amount of power that comes with being a law enforcement officer. It was a very bad decision."
Early one July morning in 2005, Currie spotted a pair of teenagers kissing in a parked car while he was on duty. He ordered the pair out of the vehicle. Currie groped the young woman, touching her genitals and exposing her breasts. At the same time, he forced the girl's boyfriend to drop his pants and watch.
After Currie left, the students immediately reported what he had done. He was arrested and later convicted of sexual battery by a law enforcement officer. Currie is serving a 10-year prison sentence.
LACK OF DISCIPLINE
Police chiefs, sheriffs and other local officials can fire troubled officers, but the power to end a career rests with the Criminal Justice Standards and Training Commission, a little-known division within the FDLE.
Consisting of staff members and a panel of 19 officials, mostly appointed by the governor, the commission reviews evidence of misconduct and determines an appropriate sanction against the officer's certificate. The punishment ranges from a letter in the personnel file to a revoked certificate, which ends one's ability to be a law enforcement officer in Florida.
The commission can also choose to do nothing.
The state's misconduct log shows Currie faced sanctions for three separate cases in 1999, years before his certification was revoked in 2006 over the sex assault. Each time, the commission determined there was not enough evidence to discipline Currie.
"It doesn't take a rocket scientist to say, 'Boy, this is somebody we're probably going to see again,'" said Mike Crews, the director of the FDLE's Criminal Justice Professionalism Program, who was speaking in general terms about repeat offenders, and not just about Currie.
"You have to balance that with, 'Do you have enough evidence right now to take the case forward?' Quite honestly, that is one of the challenges of our job."
That job is made harder by rules that limit the amount of information available to the commission.
After the three cases in 1999, the next time the commission dealt with Currie was when it revoked his certificate for sexual assault — an automatic result following a felony conviction.
If the commission had opened a case over the broken window incident, its rules would have prevented officials from reviewing the scope of Currie's career. They would have been unable to consider Currie's history or the prior cases reviewed by the commission.
Prior misconduct cases that end in no discipline cannot be considered when a new case is under review, said Glen Hopkins, the bureau chief of standards for the FDLE.
The same was true of cases involving other officers with multiple offenses identified in the Herald-Tribune's review.
For example, former officers Timothy Simmons and Wyatt Henderson caused trouble in multiple agencies, but kept finding work as lawmen after misconduct cases that included falsifying reports and fondling a young girl. Like Currie, both lost their badges only after they were sent to prison. Simmons is incarcerated for rape and Henderson for a violent assault.
"You worry about the one that got away. You hope he doesn't go out there and do something a whole lot worse," Hopkins said. "Nobody's happy when a law enforcement officer goes to prison or does something horrific."
Crews acknowledged some would find it odd that the commission wouldn't use prior misconduct when determining if someone is fit to serve the state as a law enforcement officer.
"To the public eye, that makes good common sense," Crews said. "But with our rules and statutes, we don't have that ability."
Copyright © 2011 HeraldTribune.com